"Each of us can become our personal best if we put a reasonable plan into action and don't allow ourselves to get overwhelmed with the task at hand." 
~Tara Marie Segundo, M.A.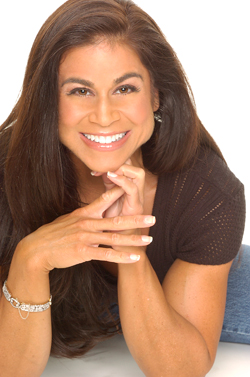 Tara Marie Segundo, M.A. has done a wide variety of work in the radio and voice-over industry, including hosting and co-hosting live radio shows and lending her talent to numerous voice-overs. She even played a character on MTV's animated series, Daria!
Tara Marie served as co-host on InVite Radio, a show about health and nutrition airing on AM 1600 WWRL in New York City. She worked as a Traffic Reporter at Metro Networks and is currently the voice of Panasonic's telephone voice-prompt system, sold to businesses worldwide.
Currently, Tara Marie is the host of her own radio talk show, TARA MARIE LIVE, which focuses on the pivotal aspects of creating a phenomenal life by addressing the mental, emotional, physical, social, and spiritual sides of people. She uses her decades of experience in the fitness industry combined with what she has learned as a competitive athlete to teach people how to get their lives on track and find their true motivation. TARA MARIE LIVE airs weekdays on American Latino Radio/SiriusXM Channel 154.
All of Tara Marie's work in radio has one goal in mind: to help listeners break free from destructive patterns so they can reach their physical and mental peak and develop to their highest potential.
Perk up your ears and stay tuned, as you never know where you will next hear Tara Marie's voice coming over the air waves!
Commercial Voice-Over Demo
Featured Guest Interviews
The Body-Mind-Wellness Show
Join Karol Ward, host of The Body-Mind-Wellness Show, as she interviews Tara Marie about the real secrets of getting and staying fit. What mindset is needed to reach your health and fitness goals? Tune in and learn how to create leverage and make the mental shift necessary to achieve lasting physical transformation. You were born to be a champion, and Tara Marie will teach you how to reach your highest potential!
This interview was done several years ago! Get current information about where you can now tune in to TARA MARIE LIVE!
Boomers Rock
Tom Matt, host of Boomers Rock, is joined by Dr. Lori Shemek to talk to Tara Marie about her life and career. Learn what prompted her to transition from working in fitness to a career in radio! She also reveals the personal struggles that made her want to help others who are locked in a destructive pattern of binge and compulsive eating and the simple 4-step system she created called, R.A.G.E.®. If your life is not where you want it to be, Tara Marie provides the information and the motivation you need to change the course of your future!
Making Happy Happen
In this interview, Dr. Cammi Balleck, host of Making Happy Happen, interviews Tara Marie about her 168 Hours Rule®, which will change how you think about time when it comes to getting lean and fit. They also discuss R.A.G.E.®, Tara Marie's 4-step system to help people overcome their struggle with binge and compulsive eating. If you're ready to change your life, this interview is a must hear!
To learn more about how you can Battle Binge Eating with R.A.G.E.® and use the
168 Hours Rule® to enhance your life, read Tara Marie's blog posts!
Conversations with Charmaine
Charmaine Hammond, host of Conversations with Charmaine, talks to Tara Marie about how you can be the leader in your own health, even in a busy work environment. Tune in for clever tips that will help you make everyday an athletic event by building "incidental exercise" into your life. Tara Marie advises that you "move with purpose" and gives practical techniques that will help you use time to your advantage when it comes to staying lean and fit!
This interview was done several years ago! Get current information about where you can now tune in to TARA MARIE LIVE!
Featured InVite Radio Shows
Antioxidants and Energy Production
---
Healing The Body and Tissue Repair
---
Physical Performance and Immunity
---
Energy and Super Foods
---
Burning Fat and Reducing Inflammation
---
Building Muscle and Optimizing Fitness