"Never let anything stop you. If something gets in your way, go over it, through it, or around it."
~Tara Marie Segundo, M.A.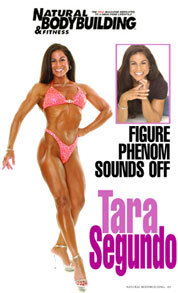 Duplicated with permission from NATURAL BODYBUILDING & FITNESS magazine.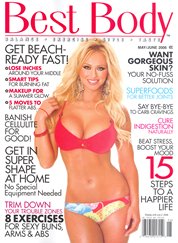 Duplicated with permission from BEST BODY magazine.
The holidays are upon us. Before you've had time to polish off your kids' Halloween candy, Christmas displays appear. Your officemates fill the kitchen with delicacies, and the workweek becomes a five-day food frenzy. If you've wondered if it's possible to enjoy the festivities without gaining weight and eat well at the same time, the answer is yes. Try these tips for conscious eating the next time you're confronted with temptation and you'll find yourself eating better and feeling better.
---
Life is a mental game. Even physical endeavors, like getting lean and fit, begin in the mind. Every behavior is preceded by a thought and a decision to carry through on that thought. Champions are first champions in their own minds, and only then can their greatness come to fruition in a physical sense. Never underestimate the mental training required to succeed in life. As a personal fitness trainer, I often spend more time working on a client's mental fitness than I do his or her physical fitness. Until we are mentally prepared to succeed, good results will be impermanent, and frustration will persist.
---
Sizzling summer temperatures can put the brakes on the best-laid plans to remain active. When heat and humidity spike, much of our energy is used to cool our bodies via sweating, which diminishes the energy we have to devote to other activities. If this summer you've spent more time lounging in a hammock in "lazy afternoon" mode and less time being active, you can still easily and safely boost your energy, get some exercise, and enjoy activities with the whole family. The key is to use creativity and common sense.
---
Do you know people who effortlessly maintain a healthy weight yet don't follow a rigid diet or exercise program? You know you do: your svelte girlfriend from the gym who's always eating but never gains an ounce, or the guy at work whose weight never seems to fluctuate-even during the holidays-what planet is he from? These lucky (albeit annoying) people know a secret and they're using it to their advantage!
---
How many times have you resolved to lose weight, tighten your muscles and finally have the body you desire-the kind of body that makes you want to put on a swimsuit and frolic on the beach? Do you look at people who seem to effortlessly maintain a lean physique and wonder what planet they're from? I get it. I used to be trapped in a body that I hated. I felt like I tried everything to lose weight and the harder I tried, the worse the situation became. If this sounds familiar, fear not. There is hope and there is a solution.
---
Ok, ladies, reality check: you just delivered your bundle of joy and it finally hits you – your little one accounts for only about 7 lbs. of the 30 or so that you gained during pregnancy. You leave the hospital looking like you are still pregnant, and you start to wonder if things are ever going to make it back to their original spot…sound familiar? The good news is that your body will one day return to some semblance of your pre-pregnancy state, and there are things that you can do to help hasten this process.